DataDog (NASDAQ: DDOG) has always been one of the undisputed leaders in the technology sector, and for good reason. The company has maintained rapid growth even as it outperforms tough comparables, while generating strong cash flow. The company even has $1 billion of net cash on its balance sheet to top it all off. The tech crash has led DDOG stocks to trade at reasonable valuations, providing a compelling entry point for a stock directly focused on data growth. I consider DDOG a buy for long-term investors.
DDOG stock price
After peaking at just under $200 per share in late 2021, DDOG has fallen 57%.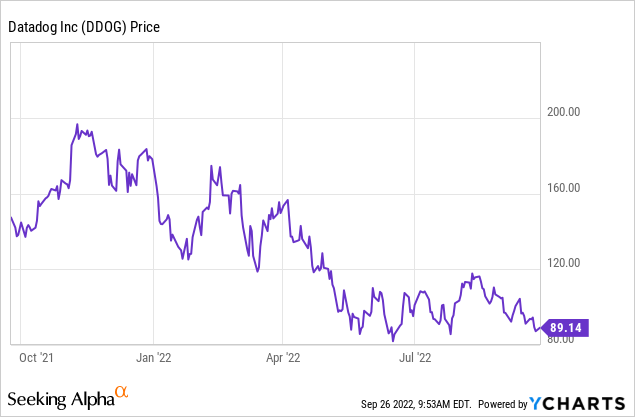 I last covered DDOG in May where I discussed 4 questions to ask before buying the stock. The stock has fallen 12% since then, although the company continues to operate even in this difficult environment.
Key DDOG Action Metrics
The last quarter saw DDOG increase its revenue by 74% to $406 million. The company previously guided to $380 million.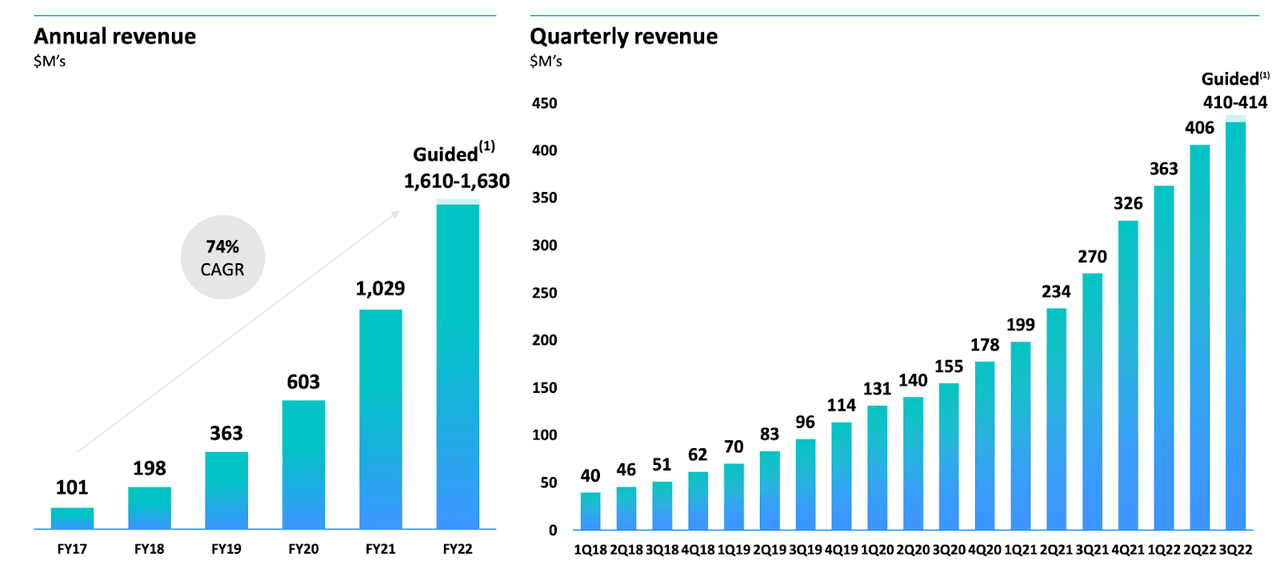 On the conference call, management said they are seeing some impact from the macro environment:
In the second quarter, while we saw strong customer growth momentum overall, we saw some variability in growth among our customers. We have seen our highest spending customers continue to grow, but at a rate below historical levels. This effect was more pronounced in certain industries, particularly in consumer discretionary, which includes e-commerce and grocery and delivery customers, and more specifically affected our products with a strong volume-based component such as log management and the APM suite. Note that we haven't seen this with our SMB and low spend customers who have continued to grow with us as they have in the past.
That said, I doubt many investors will complain about the 74% growth rates. DDOG increased its number of customers by 29.3% to 21,200.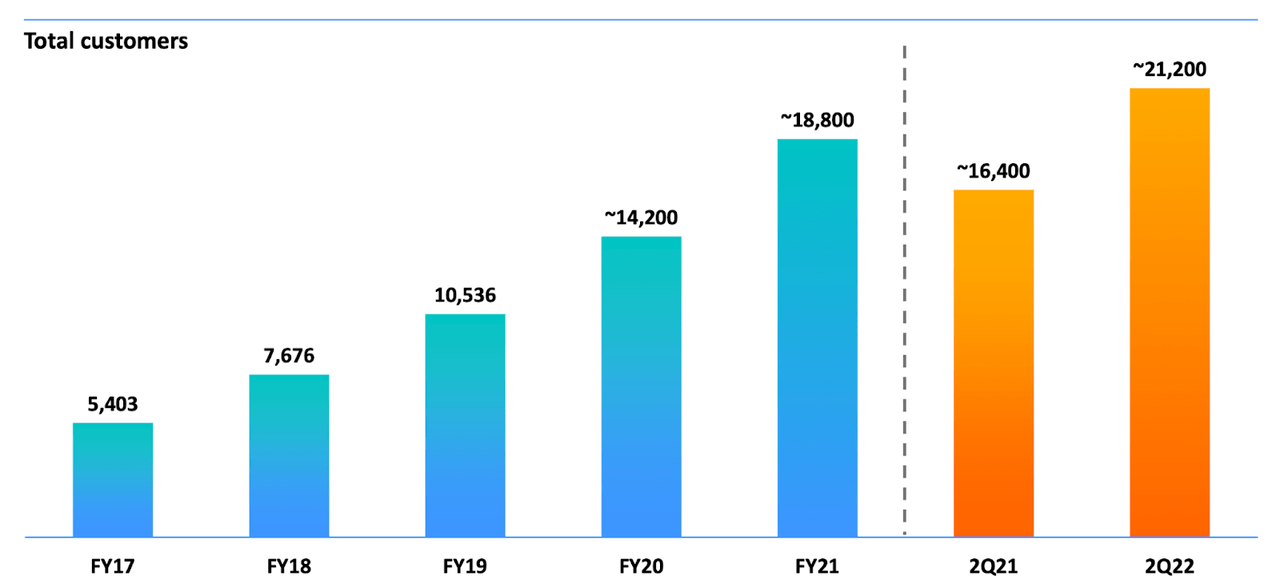 The company also recorded a net dollar retention rate of at least 130% for the twentieth consecutive quarter. I expect the company to continue to generate strong retention rates as it has even more room for growth among customers using multiple products.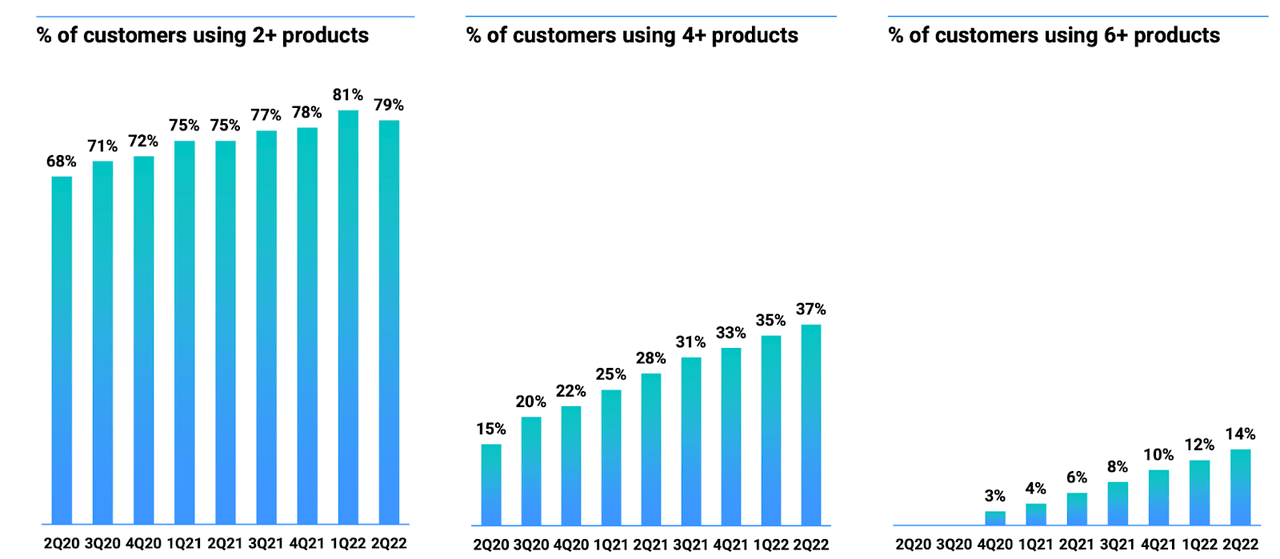 DDOG saw GAAP profitability turn negative during the quarter, but year-to-date has generated $4.9 million in GAAP net income. The company has generated good non-GAAP operating margins and been free cash flow for many consecutive quarters.

DDOG ended the quarter with $1.7 billion in cash versus $0.7 billion in debt.
Looking ahead, DDOG forecast for the next quarter to see up to $414 million in revenue (implying 53% growth) and for the full year up to $1.63 billion in revenue (implying $447 million in revenue in the fourth quarter and growth of 37.1%).

It's tempting to assume that DDOG will materially outpace those numbers, but that prospect already implies healthy sequential growth rates. Investors should expect growth to slow significantly next year.
Is DDOG stock a buy, sell or hold?
Consensus estimates call for a slowdown in growth to 37% next year, although estimates are patchy over the next few years.

With stocks trading at 17 times this year's sales estimates, the stock isn't as cheap as many other tech stocks. This premium is arguably warranted due to the attractive secular growth history, strong profit margins and track record of outperformance estimates. I could see the company maintaining at least 30% net margins over the long term. Applying a 1.5x price to earnings growth ratio ("PEG ratio"), I could see DDOG trading at 17x sales, implying a stock price of $119 per share or higher potential of 37% over the next 12 months. It's a name that justifies a PEG ratio of 2x to 2.5x in my opinion, which implies an additional upside.
I caution that strong profit margins and track record of outperformance seem to be the main drivers of premium valuation. If DDOG fails to live up to this track record, the stock will likely plummet given the cruelty of the current market environment. Many other tech stocks are trading at deeply distressed valuations, making DDOG's rich premium a potential risk factor. Longer term, there is a risk that hyperscalers will close the gap with DDOG and be able to compete better, leading to a saturated market. Even after the crash, high volatility is still to be expected due to the valuation. As I've discussed with Best of Breed Growth Stocks subscribers, a diversified basket of beat tech stocks may be the perfect strategy in the current environment. DDOG is a worthy addition to this basket as a high-quality allocation, especially if one believes it can continue to beat estimates.